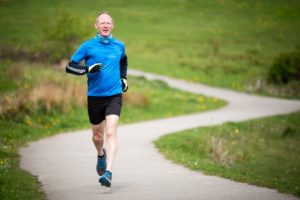 In the field of regenerative medicine, platelet-rich plasma (PRP) is one of the most well-studied treatments, and it has been shown to be effective in helping relieve injuries in various parts of the body, particularly the joints. With this in mind, could it be a viable solution for osteoarthritis (OA)? Because PRP helps new healthy tissue grow, could it possibly reverse cartilage loss? Can it help a patient potentially avoid surgery?
A Quick Summary of PRP
PRP is a therapeutic substance that is created using a small sample of a patient's blood that is spun in a centrifuge. During this process, the liquid plasma (mostly water) separates from a thick, yellow substance that contains a high amount of platelets, proteins, and other growth factors the body uses to heal itself.
Once the PRP has been harvested and refined, a doctor injects it into the injured part of the body. There, it jumpstarts the healing process by accelerating the growth of new tissue.
What PRP Can Do For Osteoarthritis
It's important to say that there is currently no treatment available that has been shown to regrow lost joint cartilage (the root cause of OA). The only way to stop the progression of OA is with full joint replacement. But, certain management strategies can help patients avoid surgery while still improving their health and quality of life.
When a joint develops arthritis, this causes the nearby bones, nerves, muscles, tendons, and ligaments to start rubbing up against each other in unnatural ways. As you can imagine, this leads to pain, stiffness, and a loss of function. What PRP can do is help these tissues become stronger and healthier. When the supportive tissues are in good shape, they give a joint ample support so it's able to move well, plus the PRP helps eliminate inflammation.
So, after a PRP injection, a patient can expect their pain to dissipate over the course of a couple of weeks, and the joint itself will become more stable. It will continue to get better as the months go by and the body absorbs the PRP. This can allow a patient to circumvent an overreliance on medication and make surgery unnecessary as well.
Is PRP Right for You?
PRP has exploded in popularity over the past few years, so it's relatively easy to find a doctor offering it. What's important is to visit one that has adequate experience and a proven track record of helping people with joint problems recover using PRP. This way, you can trust that the method they use to make and apply PRP will lead to a positive and lasting result for you.
Once you find this doctor, just schedule an appointment and tell them about your situation. They may recommend PRP, another treatment, or a combination of methods in order to give you the lasting relief you deserve.
About the Author
Dr. James Pinkston is board-certified in neuromusculoskeletal medicine, and he has a BS in Athletic Training from the University of North Carolina and earned his Doctor of Osteopathic Medicine degree at the Edward Via Virginia College of Osteopathic Medicine. He has successfully helped many patients dealing with OA using a variety of regenerative medicine treatments over the years, including PRP. To learn more about this treatment and see what it could do for you, click here to schedule an appointment with Dr. Pinkston.