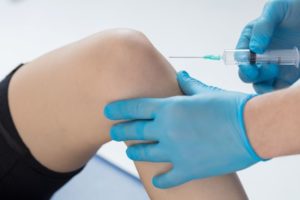 Regenerative medicine is a unique part of the healthcare world. It does not seek to merely manage symptoms. Rather, it strives to empower a patient's own body to heal itself. There are a number of regenerative medicine treatments available, some of the most popular of which involve the use of stem cells. Read on below to learn what regenerative cell therapy is and what you can expect from the treatment process.
What Is Regenerative Cell Therapy?
Regenerative cell therapy is also known as biologic cell therapy. In an orthopedic setting, it typically involves harvesting mesenchymal adult stem cells from a patient's own bone marrow. Then, those stem cells are prepared as part of a unique solution, which is then precisely injected into the body at the site of an injury or degenerative condition.
Stem cells are sometimes called "master cells" because they can change into other types of cells. This special ability means they are able to encourage the healing of tissues throughout the body.
Regenerative cell therapy might be able to help patients who are suffering from a number of conditions, including:
Arthritis
Tendinitis
Tendon tears
Back pain
Neck pain
Runner's knee
Carpal tunnel syndrome
And more!
How Does the Treatment Process Work?
If it is determined that you are a good candidate for regenerative cell therapy, stem cells will be harvested from your own body. Your medical team will do all they can to make sure you are comfortable during the extraction process.
After the solution is prepared, it will be injected with the help of advanced imaging equipment. Using ultrasound guidance, your doctor will ensure that it gets exactly where it needs to go — no guesswork is involved.
Some soreness at the injection site is normal, but this should be mild and begin to wear off fairly quickly.
When Will You Notice Results?
Patients heal at different rates, so there is no way to predict exactly when you will begin to experience the positive effects of the regenerative cell therapy. Some people start to notice a difference within the first week. For others, it may take several weeks before a significant reduction in pain and an increase in mobility becomes apparent.
In many cases this therapy works best when it is combine with other treatments, such as physical therapy or Platelet Rich Plasma. Your doctor will design a customized plan to help you experience optimum relief from whatever condition is plaguing you.
Orthopedic regenerative cell therapy is a natural and effective way to encourage your body to heal itself. If you are struggling with chronic musculoskeletal pain, it might be just what you need to feel better.
Meet the Practice
Dr. James Pinkston is a Doctor of Osteopathic Medicine who is board-certified in Neuromusculoskeletal Medicine. In our Asheville practice, he offers regenerative cell therapy and a number of other top-quality treatments. To learn more about him and how he may be able to serve you, contact us at 828-417-9913.