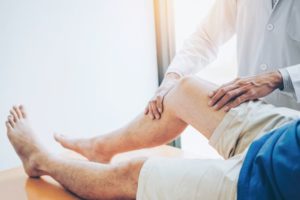 Do you struggle with musculoskeletal pain? Are you looking for a non-invasive way to encourage your body to heal? It is possible that osteopathic manipulative therapy (OMT) may be able to help you. But what exactly is OMT? What does it involve? Whom can it help? Read on below to learn the basics of this effective, pain-relieving treatment.
What Is OMT?
Visually, OMT looks similar to what a chiropractor or physical therapist does. It involves a doctor carefully manipulating a patient's body in order to encourage pain relief and increased mobility. However, OMT is unique in that, instead of looking to relieve pain in just a specific area, it takes a holistic approach. It recognizes the interconnectivity of the entire body and seeks to improve overall wellness.
A variety of techniques are used during OMT sessions. For example, your physician may use slow movements and continuous pressure, or they might use quick and sudden movements. Stretching and massage are frequently part of OMT. You may be standing, sitting, or lying down during your sessions.
Whom Can OMT Help?
Here are some examples of the types of people that OMT is often able to help:
Individuals struggling with chronic pain due to bad habits, such as bad posture and working in an environment that has poor ergonomics.
People recovering from injuries, such as those that are often incurred during sports or accidents.
People who experience frequent headaches and migraines.
Pregnant women who are suffering with pelvic girdle pain or lower back pain.
Individuals with asthma or chronic obstructive pulmonary disease (COPD).
What Does OMT Feel Like?
OMT can be relaxing in many cases, but sometimes, the techniques used can cause mild discomfort. After a session, you might experience some soreness for a day or two, but it should not interfere with your ability to carry out your daily activities.
How Safe Is OMT?
OMT is quite safe. The doctors who offer it are intimately familiar with the workings of the human body, and they are careful to manipulate patients' bodies in a way that encourages healing. Negative side effects from OMT are very rare.
How Fast Does OMT Produce Results?
Some patients notice positive results immediately after their first OMT session. For other patients, it requires several sessions before they notice a substantial decrease in pain and an increase in mobility. Often, OMT is combined with other osteopathic or orthopedic treatments to produce optimum results.
What Can You Expect During Your First OMT Session?
Your Doctor of Osteopathic Medicine will start by getting to know you. They will learn about your symptoms, ask about your pain levels, and perform an examination of your body. From there, they will strive to diagnose your problem and design a treatment plan, which may involve several OMT sessions spread out across numerous weeks.
Osteopathic manipulative therapy is a powerful but noninvasive treatment for pain relief! If you still have questions about it, ask your local OMT provider.
Meet the Doctor
Dr. James Pinkston is a Doctor of Osteopathic Medicine who is Board Certified in Neuromusculoskeletal Medicine. He is active in numerous prestigious professional organizations. OMT is among the many services he offers in our Asheville practice. To learn more about him or to schedule a consultation, contact us at 828-417-9913.