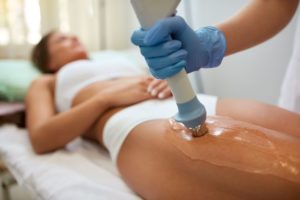 Shockwave therapy (also known as Extracorporeal Pulse Activation Technology , or EPAT) is a remarkable treatment that can increase blood flow to damaged tissues and encourage healing — all without the use of drugs or invasive techniques. Over the years, it has helped countless patients recover and move freely again. With that said, you might be wondering if it is right for you. Who should get shockwave therapy? Who should avoid it? Read this blog post to discover the answers.
Whom Can Shockwave Therapy Help?
Clinical studies indicate that shockwave therapy is successful in 91% of cases. You may join that happy majority if you are suffering from any of the following:
Overuse injuries
Shin splints
Heel pain
Knee pain
Back pain
Tennis elbow
Golfers elbow
Stress fractures
Frozen shoulder
Hamstring pain
Neck pain
Achilles pain
Plantar fasciitis
Other various musculoskeletal aches and pains
EPAT has been shown to help even stubborn cases, which have failed to respond to other conventional treatments, such as NSAIDs and physical therapy. Its noninvasive nature, and the fact that it requires no downtime whatsoever, are additional benefits that appeal to many patients.
Who Should Not Get Shockwave Therapy?
Just like any medical treatment, shockwave therapy is not right for everyone. It may not be suitable for you if:
You are pregnant.
You have a pacemaker.
You are taking medications that interfere with blood clotting
You have hypersensitivity or neuropathy in the treatment area.
Some patients do not have any of the above contraindications but choose not to get shockwave therapy because not all medical insurance policies cover it. However, it is worth noting that this treatment is financially accessible for most patients, even without insurance coverage.
Shockwave therapy may also not appeal to people who do not wish to attend multiple appointments (even though the appointments are usually less than half an hour).
So, Is Shockwave Therapy Right for You?
The best way to find out if shockwave therapy is right for you is simply to schedule a consultation with a qualified Doctor of Osteopathic Medicine. They will evaluate your situation and recommend the treatment that best fits your needs. Even if it seems like shockwave therapy is not right for you, there is likely to be another available service that could aid in reducing or even eliminating your pain.
Meet the Practice
Dr. James Pinkston is an experienced Doctor of Osteopathic Medicine who is proud to serve Asheville and the surrounding communities. He is proud to offer EPAT as one of his many services. If you have questions about it or would like to give it a try, contact our office at 828-417-9913 to book a consultation.