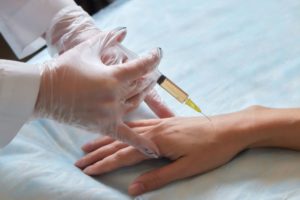 Stem cell therapy might sound like something out of a sci-fi movie, but in our modern day and age, it has already helped countless people. This remarkable treatment utilizes the power of stem cells, harvested from a patient's own body, to speed up the healing of damaged tissue. It is minimally invasive and has the potential to provide significant long-term results. Is stem cell therapy right for you? This blog post provides information that can help you decide whether you should schedule a consultation with a local stem cell therapy provider.
What Conditions Can Stem Cell Therapy Treat?
Stem cell therapy has already been used as a successful treatment for a number of painful conditions, including:
Osteoarthritis
Meniscus tears
Labral tears
General neck and back pain
Chronic joint pain
Partial ACL tears
Rotator cuff injuries
Tendon and ligament tears
A range of other musculoskeletal conditions
If you are not sure if orthopedic stem cell therapy is suitable for you, call a provider and book a consultation. After they perform an examination, learn about your symptoms, and determine the severity of your condition, they will be able to make a personalized treatment recommendation.
What to Expect with Stem Cell Therapy
If you move ahead with stem cell therapy, you can expect your medical team to make your experience as comfortable as possible. First, you'll undergo a procedure wherein your doctor will harvest stem cells from either your bone marrow or fatty tissues. After the cells are processed, they can be placed back into your body at the site of damaged tissues.
As the stem cells and other healing components get to work, you are likely to notice a significant reduction in pain, increased mobility, and a heightened overall quality of life — all without the need for highly invasive surgery.
Who Should Not Get Stem Cell Therapy?
Stem cell therapy is great for many people who are suffering from conditions that cause musculoskeletal pain. However, it is not suitable for everyone. For example, it is not for people who are currently fighting cancer or certain systemic infections. If you are taking certain medications, you may need to stop doing so prior to your treatment.
Your medical team will thoroughly screen you for any and all contraindications before approving you to move forward with treatment.
Is stem cell therapy right for you? The only way to find out for sure is to speak with a qualified medical practitioner.
Meet the Practice
Dr. James Pinkston, D.O., is board-certified in neuromusculoskeletal medicine. Here in our Asheville practice, he proudly offers orthopedic stem cell therapy, which is also known as cell therapy or biologic cell therapy. If you would like to learn more about how he and our team may be able to help you find relief from your aches and pains, contact our office at 828-417-9913.