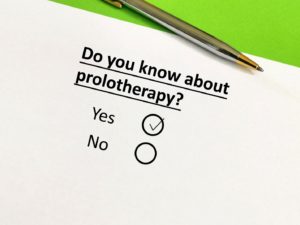 Prolotherapy in Asheville has helped countless patients to enjoy improved mobility and a healthier body. Before you talk to a healthcare provider about this treatment, though, you may want to know more about it. This blog post provides answers to some frequently asked questions about this form of regenerative medicine.
Prolotherapy is also called proliferation therapy or regenerative injection therapy. It involves injecting a mild irritant — usually a dextrose solution — into a joint, tendon, or ligament. The dextrose does not harm the tissues. Instead, it lets your body know that there is a problem, which sparks a healing response. Many patients experience significant pain relief following prolotherapy treatment.
What Conditions Can Prolotherapy Treat?
Prolotherapy is a suitable option for a wide range of musculoskeletal conditions. Here are some examples of issues that it is commonly used to address:
Carpal tunnel
Bursitis
Whiplash
Lower back pain
Tennis elbow
Osteoarthritis
Fibromyalgia
Other aches and pains
How Effective Is Prolotherapy?
The majority of patients who receive prolotherapy injections notice a significant reduction in their pain within 4 – 6 weeks of their treatment. One of the great things about it is that, unlike other forms of pain relief, it does not just mask symptoms. Rather, it addresses the root cause of the pain. Therefore, unless you get reinjured for some reason, you can expect the results of your prolotherapy to last a long time. In fact, many patients enjoy permanent pain relief!
Does Prolotherapy Come with Any Risks?
Prolotherapy is a very low-risk treatment. It uses a simple combination of ingredients — usually, dextrose mixed with a local anesthetic. The most common side effect is pain and soreness at the injection site, which is a normal part of the body's healing process. Prolotherapy is considered safe for the vast majority of patients. In fact, clinical trials routinely show that patients experience no serious bad reactions after receiving their injections.
Is Prolotherapy Experimental?
Some insurance companies consider prolotherapy to be investigational, so they do not cover it. However, do not let that fool you. This treatment has been around since the 1950s. The American Osteopathic Association, as well as other prestigious organizations, do not consider it to be experimental. It is a well-established treatment with numerous studies attesting to its safety and effectiveness.
Is Prolotherapy Right for Me?
Whether or not prolotherapy is right for you depends on why you are in pain and other factors. A consultation with a qualified osteopathic physician will reveal which treatments are the best fit for your unique situation.
Prolotherapy is a remarkable, low-risk treatment. It may be the key to enjoying long-lasting pain relief!
Meet the Practice
Dr. James Pinkston is a Doctor of Osteopathic Medicine who is passionate about helping patients find conservative but effective treatments to relieve pain and enjoy a higher quality of life. Prolotherapy is one of the many services available in our office. To learn more about Dr. Pinkston, the treatments we offer, and how we may be able to help you feel your best, contact us at 828-417-9913.